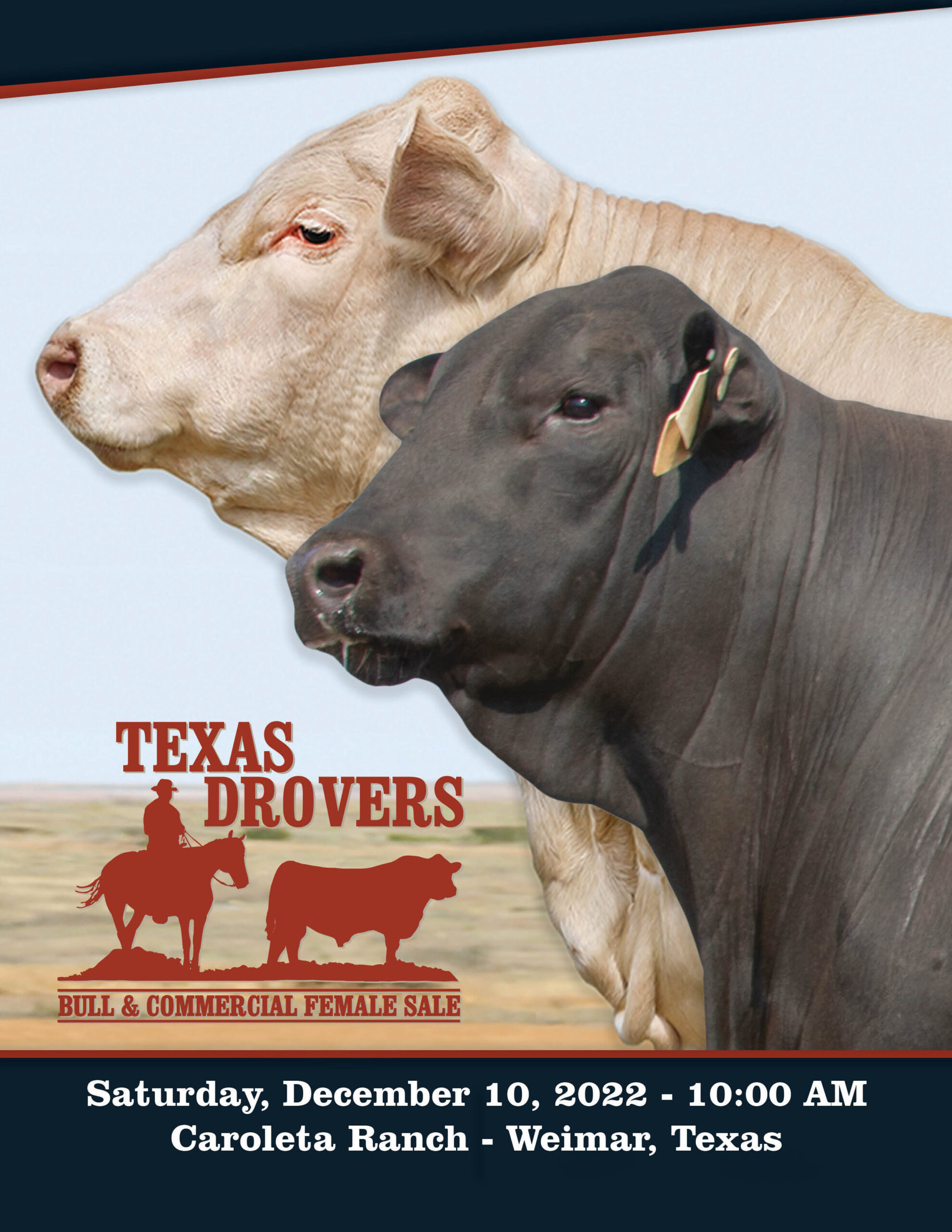 10 Nov

Texas Drovers December 2022
Caroleta Ranch in Weimar, TX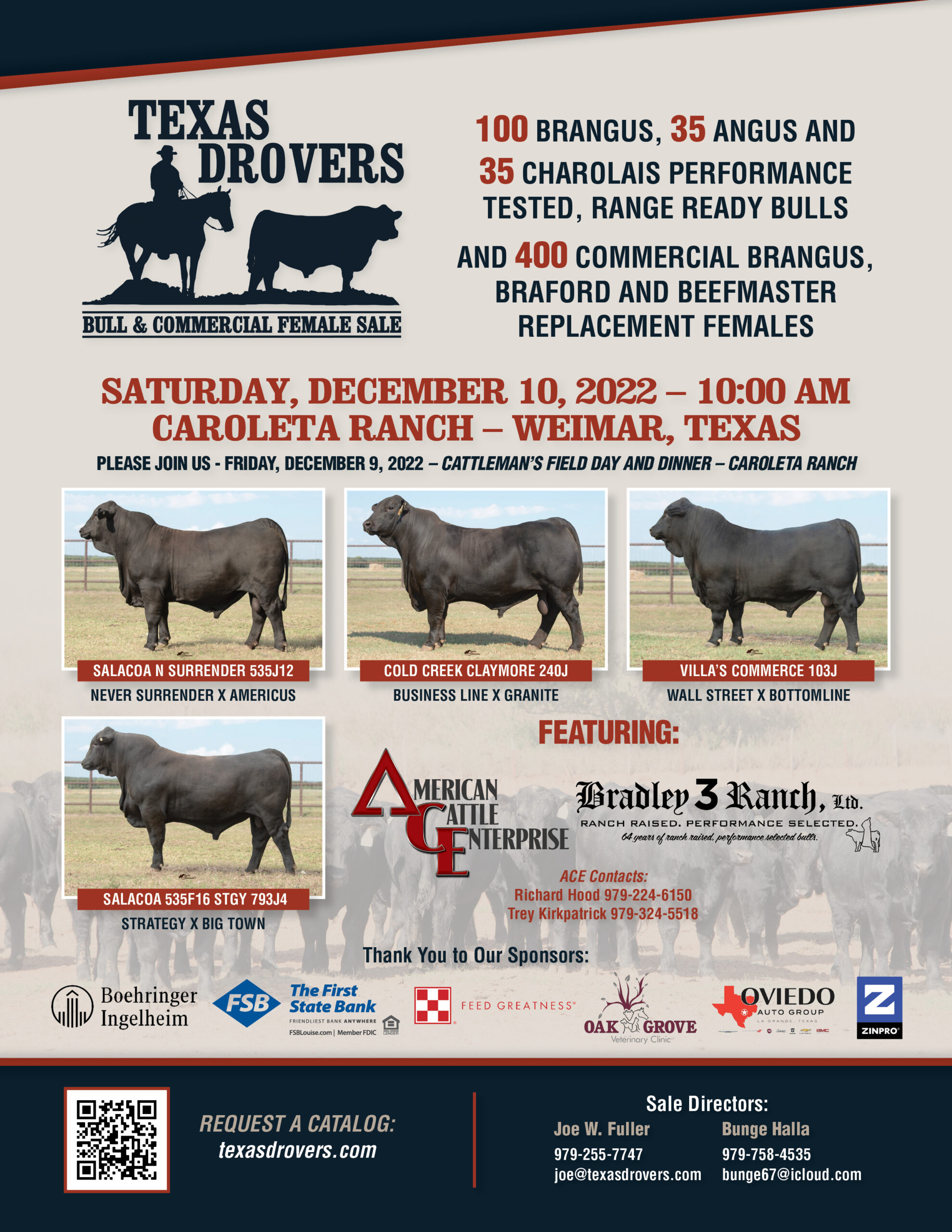 Welcome to our First Annual Texas Drovers Bull & Commercial Heifer Sale here at Caroleta Ranch south of Weimar, Texas. The genesis of this sale came together with Bunge Halla and Joe Fuller having the desire to create an event where cattlemen can gather and drive to new heights through sharing technology and genetics in order to insure a sustainable future for the cattle industry. We believe in utilizing the most advanced nutritional, management, health, genetic and marketing tools to maximize profits. These beliefs drove us to create an event of like-minded cattle folks that use cutting edge tools like DNA testing, complete performance panels including Ultrasound measurements and advanced reproductive technologies. We are presenting you cattle that have the highest standards of health and nutritional management in place. In other words, come with confidence that you can procure the right kind of genetics at this sale whether you are looking for Brangus, Angus or Charolais bulls or are looking to add high quality and reputation, ranch raised replacement females. The cattle industry is setting up for a huge price surge as we move into 2023 and beyond as demand for high quality beef is driving demand to new heights both domestically and export.
We have some key operations that have made this possible and we know that you will appreciate the cattle that they are presenting to you. American Cattle Enterprise is owned by the Cleveland and Wiley families, and they have operations and cattle in Alabama, Louisiana, Georgia and Texas and they have anchored the Brangus section of the sale with a great set of bulls. In addition, Bradley 3 Ranch of Memphis, Texas is a familiar brand and James & Mary Lou Bradley Henderson along with matriarch Minnie Lou Bradley are bringing to South Texas a strong set of Angus and Charolais bulls. Also, we would like to recognize an up-and-coming Brangus operation, Villa Ranch owned by Milton Villareal and managed by April Villareal who have 10 quality bulls. Another familiar reputation outfit, Kaechele Ranch of Wallis, Texas operated by Frank & Bonnie Reznicek, is the anchor commercial replacement heifer consignor with a choice set of long bred Brangus heifers along with a fancy set of open heifers.
We would also like to invite you to our Field Day on Friday, December 9th starting with lunch at Noon provided by United Ag Coop. In keeping with the theme of the event, we are bringing you information that you take back to your operation and make the right decisions for future profitability. We could not have done this without the great sponsors and our thanks go out to Zinpro, The First State Bank of Louise, Oak Grove Vet Clinic, Oviedo Dodge, Boehringer Ingelheim United Ag Coop and Purina Animal Nutrition. Don't miss the grand prize drawing at the Field Day of a $500 credit toward to purchase of bulls or females at the sale the next day. You won't want to miss this!
Texas Drovers, a legacy of cattle drovers of old with a keen focus on utilizing cutting edge technol- ogy, genetics, nutrition, management, health, finance and marketing to insure that the next generation can still drive the cattle industry along sustainable and profitable trails.
We look forward to seeing you at the Field Day and Sale!
Best Regards,
Bunge Halla
Joe W. Fuller
Cattleman's Field Day Event
Please join us for a super informative Cattleman's Field Day with sessions that will illuminate new opportunities in the cattle business.
Special Feature
Grand Door Prize for Field Day Attendees: $500 credit towards bull or females in the Texas Drovers Sale
Holiday Inn Express & Suites |  979-733-9300 
4321 I-10, Columbus, TX
La Quinta Inn & Suites | 979-733-0522 
2427 State Hwy 71, Columbus, TX
Buying online is as easy as 1, 2, 3…
Create an account at DVAuction.com under the "register" tab
Apply for bidding approval by clicking on the "details" tab at
least 24 hours prior to the auction-a DV representative will notify
you once you have been approved
Tune in for the sale and make you purchases!
After the sale, contact the sale manager or owner to arrange
transportation and payment. High speed internet is required for
successful bidding-be sure to check the lag-time monitor in the
top left corner to ensure real-time broadcasts.
Proxy Bidding
If you can't make time to watch the sale, register
a proxy bid and let our system represent your bid while
you're away. Look for the "proxy bid" tab on the auction listing,
and fill in your maximum bids. We'll handle the rest!
Having troubles?
During the auction, you can type a message to the operator at
any time for assistance. Our full-time support team can also
always be reached at (402) 474-5557.