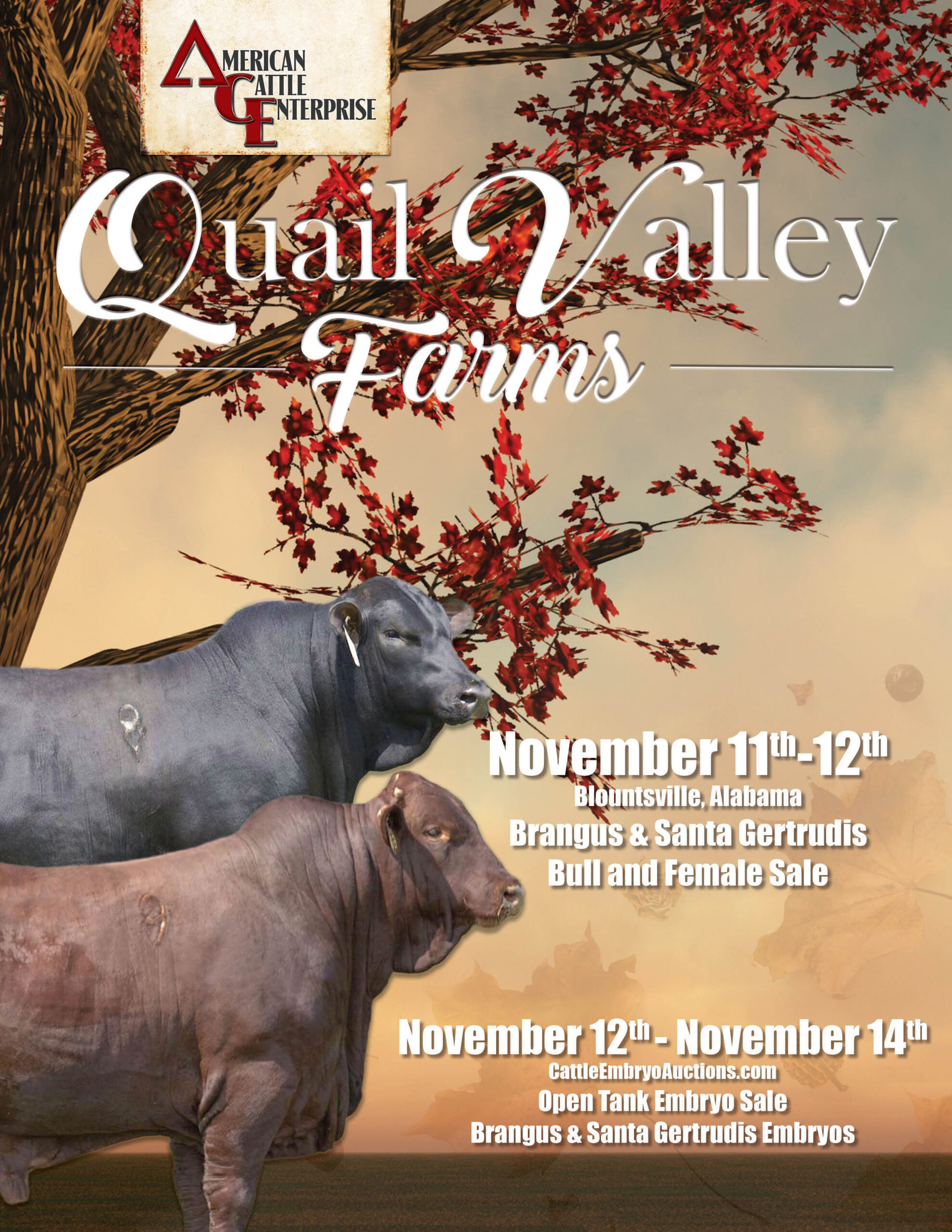 19 Oct

QVF Fall Sale November 11-12
17761 County Hwy 26 Blountsville, AL 350531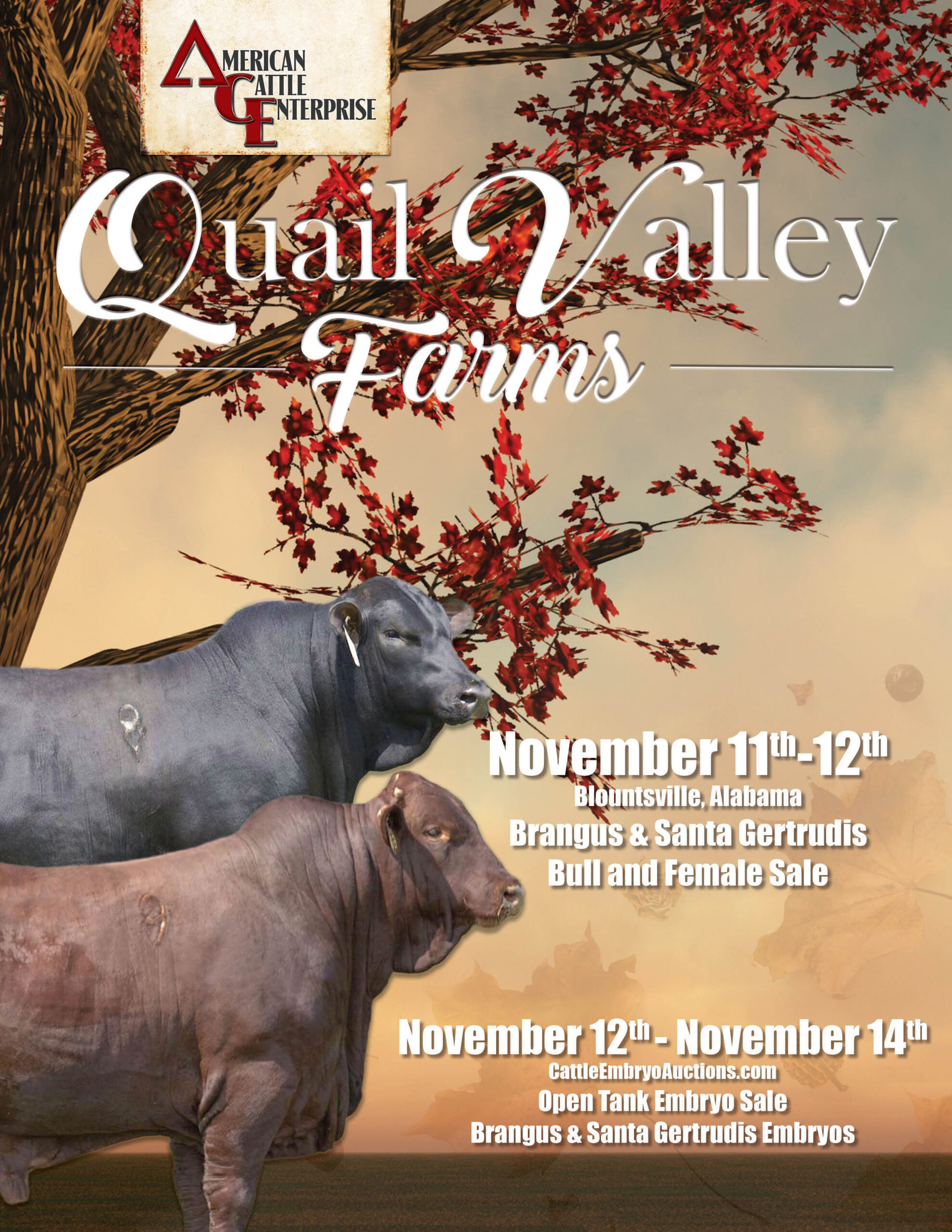 We would like to welcome you to our Annual Quail Valley Farm's bull, female, and embryo sale!
This year's sale we will offer a tremendous set of cutting edge "Brangus Southern Belles." On the evening of Friday, November 11th, we will also be selling the entire six year old, and older, Salacoa Valley herd. This offering of Brangus females combines our newest cutting edge genetics along with our most proven stable genetics.
In addition, on Saturday, November 12th, we are offering an exciting set of Brangus and Santa Gertrudis bulls. Along with a fancy set of commercial females. These bulls are guaranteed to go to work for you and give you a value added product in return. These bulls have been expertly conditioned to not have any structure or pasture efficiency issues due to prior nutrition.
It is truly our goal at Quail Valley Farms and American Cattle Enterprise to produce a predictable, productive, product for the beef industry to utilize for enhanced efficiency and profitability. With that said, there is over 30 years of genetics that have been measured and matched to create the assurance that these cattle will do the job. From Angie and myself, we sincerely appreciate your interest and belief in our ranching program. We consider ranching not only as a business, but a responsibility to do our part in feeding protein all over the world.
If you have any questions please do not hesitate to reach out to myself or anyone on our staff. We hope you will come and enjoy great food, great fellowship, and great cattle.
God bless.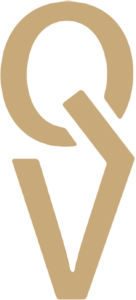 Sincerely,
Ricky Cleveland
Quail Valley Farms
Santa Gertrudis Bull Offering
Commercial Female Offering
Holiday Inn & Suites | (256) 736-1906  | code QFV Sale*
711 Paragon Place, Marskville LA 71351
Comfort Suites | 256.255.5999 | code QFV Sale*
2048 St Joseph Dr NW, Cullman, AL 35055
Hampton Inn & Suites (Overflow) |  (256) 255-5999  | code QFV Sale*
2052 Hayes Dr. NW Cullman, AL
*Rooms must be booked by 10/28/2022 in order to recieve the group rate.
Buying online is as easy as 1, 2, 3…
Create an account at www.dvauction.com under the "register" tab
Apply for bidding approval by clicking on the "details" tab at
least 24 hours prior to the auction-a DV representative will notify
you once you have been approved
Tune in for the sale and make you purchases!
After the sale, contact the sale manager or owner to arrange
transportation and payment. High speed internet is required for
successful bidding-be sure to check the lag-time monitor in the
top left corner to ensure real-time broadcasts.
Proxy Bidding
If you can't make time to watch the sale, register
a proxy bid and let our system represent your bid while
you're away. Look for the "proxy bid" tab on the auction listing,
and fill in your maximum bids. We'll handle the rest!
Having troubles?
During the auction, you can type a message to the operator at
any time for assistance. Our full-time support team can also
always be reached at (402) 474-5557.