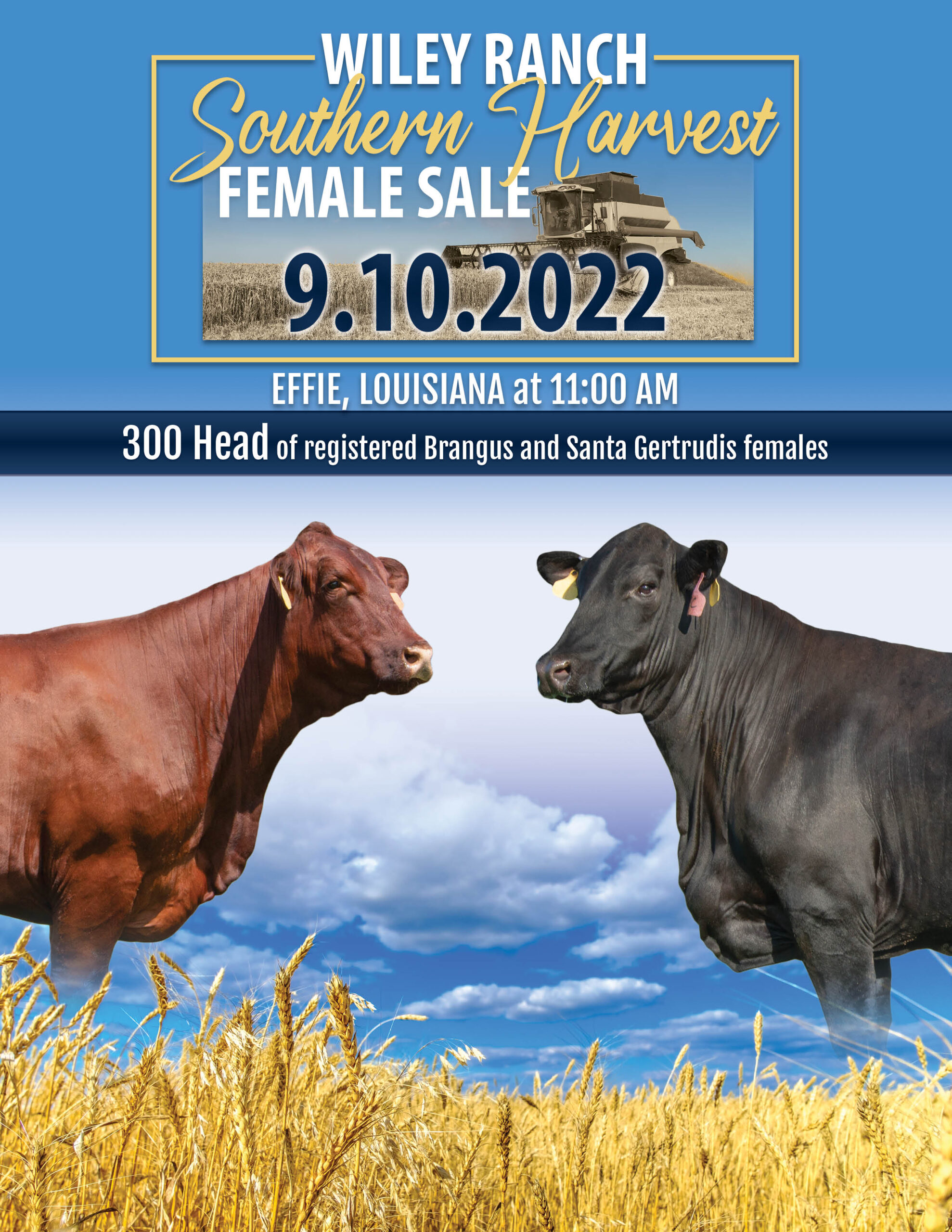 22 Aug

Wiley Ranch Southern Harvest Female Sale: Sep 2022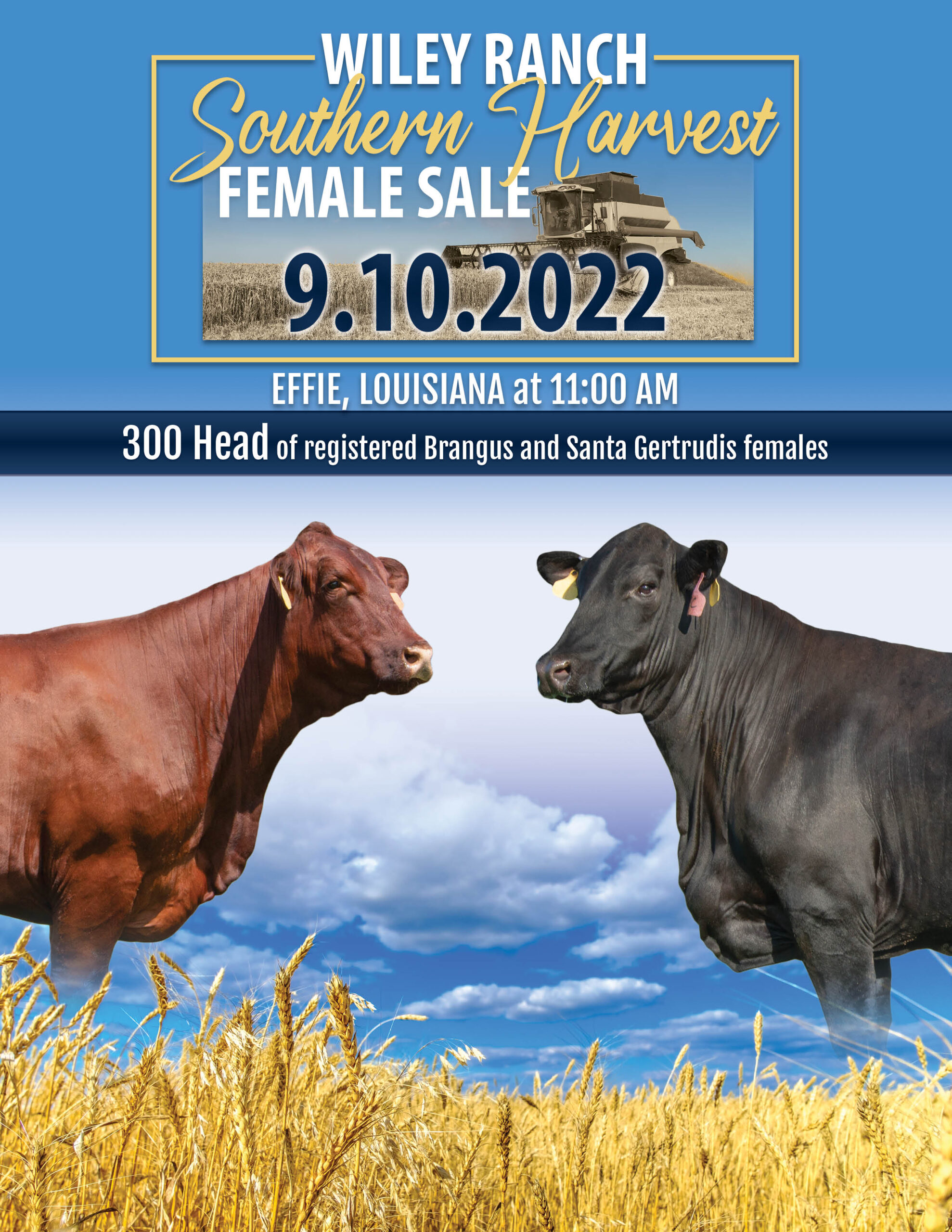 WELCOME to the 3rd Annual Wiley Ranch Southern Harvest Brangus and Santa Gertrudis Sale.
As you know we are farmers as well as ranchers. The 2022 harvest is in full swing in Louisiana, which means it is time for the Southern Harvest Female Sale as well!
We hope you will join us Friday evening September 9th to enjoy our Cajun feast. We have been very busy working and stuffing crawfish for the famous bisque as well as preparing the fixins and cracklins and boudin. It wouldn't be September without Chef Thad grilling up some chargrilled oysters as well! It is always a delightful time to meet with friends and cattlemen/women from all over the country. We love sharing our Louisiana heritage so much.
Much has happened since 2021, including the purchases of the Blackwater Cattle Company and Salacoa Valley Herds alike. With that said we and American Cattle Enterprise (ACE), will be offering all of the 6 year old and older Brangus females from the legendary Blackwater Cattle Company herd. We want to extend a big thank you to Tracy Holbert, for assisting us in document ing the past accomplishments, performance and history of this tremendous herd of cattle in each of the Brangus cows comments. Guest consigner Bushly Creek Brangus will offer a select group of Brangus Spring and Fall Bred Heifers. Cross N Farm will have a very breed elite Brangus donor consignment as well.
We at Wiley Ranch will offer every Santa Gertrudis cow 6 years and older. The majority of these are full 3-n-l's with tremendous calves at side. Flying C Ranch, Creech Farms, and Tideland Ranch have consigned a select set of young pairs, bred and open heifers.
We are very proud of these proven quality genetics and think they should represent the heart of our program very well. We are excited about this offering and have confidence that we have cattle that can meet every registered and commercial cattlemen's needs respectfully.
Y'all come Friday night for some delicious food and we "gha-rawn-tee" to pass a good time.
If you have any questions please don't hesitate to contact me at 318.481.6927 or Erik at 318.481.8082
Sincerely,
Kim Wiley
Wiley Ranch
SANTA GERTRUDIS FEMALE OFFERING
Hampton Inn & Suites by Hilton Marksville |  (318) 253-7576  | code RRS
6896 Hwy 1, Mansura LA 71350
Paragon Casino Resort | (800) 741-3112  | code KERS10G
711 Paragon Place, Marskville LA 71351
*Blocks are good through August 26, 2022
Wiley Ranch – ACE Partner
Erik Wiley | 318.481.8082
Kim Wiley | 318.481.6927
Quail Valley Farms – ACE Partner – Oneanta, AL
Ricky and Angie Cleveland
Brian Wood, Manager | 205.410.7834
American Cattle Enterprise
Executive Director
Richard Hood | 979.224.6150
Global Marketing Director
Trey Kirkpatrick | 979.324.5518
Natl. Marketing Director Florida/Gulf Coast Specialist
Todd Harvey | 386.288.8059